Béton studio: Creating in Concrete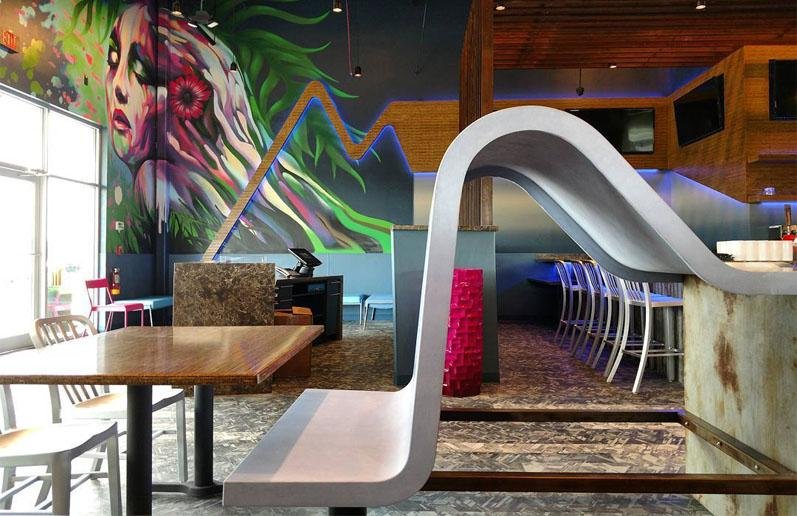 What comes to mind when you think of concrete is not what Beton Studio in St Pete, FL has made of it! You might have images of something cold, rough, and uncomfortable, serving only a structural purpose, but these are exactly the kind of misconceptions Jonathan Haywood, founder of Béton Studio, dispels with his work saying, "I think that concrete is a misunderstood material." He further explains, "What we present is a product that's very refined and smooth, just a wonderful thing to touch." Haywood's custom designs countertops, furniture, fireplace surrounds, and more illustrate that concrete can be beautiful. 
Haywood first became enamored with concrete in 2009 when he and his wife embarked on the adventure of a lifetime: moving to Costa Rica only five days after they married. There, he met a fellow expat who wanted to set up an operation making custom concrete countertops, sinks, and furniture to be shipped back to the US. Haywood joined this enterprising man in his endeavor saying that as soon as he crafted his first concrete sink, he was hooked. "At the point of seeing what we could make, I didn't want to do anything else," he says.
When the Haywoods returned to the States three years later, they settled in St Pete and Jonathan opened his own designer concrete business which was soon after acquired by another company, and so in 2015, he created Béton.
Haywood prudently chose the name Béton, which translates to "concrete" in French. He did so because, at his former business, he'd often field calls asking for driveway quotes. This time around he didn't want to have "Concrete" in the name associated them with doing slabs. "Béton" still represents what they do, but without invoking limited ideas of what concrete can be. Haywood likens the moniker to Hermès or Dior. 
Béton creates the usual fare of countertops but they're also becoming known for their innovative furniture designs, which include all manner dining, coffee and end tables and benches. Haywood points out that his furniture is especially suited to Florida's climate. Béton's 'designer' concrete is made with aggregate far smaller than that of common concrete, so it ends up being up to three times stronger, better able to withstand a hurricane. However, this doesn't mean Béton's furniture is heavy; because they usually cut the glass fiber-reinforced concrete at only one-inch thick, it can actually be two-thirds lighter! The popularity and sheer utility of their products have carved them a much-coveted niche among discerning home and business owners. They've even been featured on TV shows like Yard Crashers and Insane Pools!
Further 'cement' Haywood's dedication to his business he goes to great lengths to find just the right materials.  Recently, he had a five-foot-wide teak root flown in from Indonesia in order to make the base for a very unique concrete coffee table going in a Clearwater workspace.  But of all his projects, the concrete table he made for the Mellow Mushroom restaurant in Lutz stands out as a favorite. One end of the 18-foot table curves up and then back down to form a bench for another table, and the other end sports a waterfall leg. Haywood says that while the table's design made it one of his most challenging projects, it was also one of his most rewarding.
Although business is booming with work being booked months in advance — Haywood only works with one other skilled craftsman. He prefers it this way because he gets to work hands-on with the concrete; this versatile material that he says still teaches him something new every day, even after a decade. "When I started again, my goal was not to grow this thing to having 20 employees," he says. "My goal was to keep playing and creating, which is what I feel like I'm able to do when I come to work."